Our High Strength Billet Aluminum Hub is a drop in replacement for the stock pulley.
Swapping to a Chain Final Drive is less work than changing a broken belt. As the swingarm does not need to be removed.
You will never have to remove your primary or swingarm again because of broken belts!

Fits 2009-2018 Touring Models (Twin Cam & Milwaukee 8 Engines)
Interchangeable Sprocket Design
Available with 51, 55, or 58 Tooth Sprockets

Our Sprocket sizes are selected to allow maximum use of the small axle adjustment slot on these bikes, Not just random sizes that put the axle at the end of adjustment.

All Sprockets available separately

All of our Sprockets are Heat Treated C1045 Steel for long lasting durability.
Aluminum sprockets do not live for long on a Harley!

24T Front Sprocket and 51T Rear Sprocket is equivalent to the stock belt drive gearing.
55T Rear Sprocket= 7.5% Deeper
58T Rear Sprocket= 13% Deeper

Now Available:
49T Rear Sprockets= 4% Overdrive

Fully Assembled with bearings and ready to install.
We have 3 Grades of Sealed Chains available:
Standard O-Ring Chain
X-Ring Seal- Longer Lasting Seal, Same Strength as O-Ring
BMZR- Sealed Drag Race Chain, Strongest Available and recommended for all baggers.
Kit Includes:
Front Sprocket

Rear Chain Conversion Hub

Rear Sprocket of your choice

Grade-8 Hardware

Chain of your choice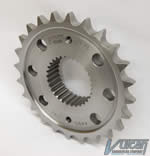 Our 6 Speed Transmission Sprocket
Heat Treated Steel

24 Tooth
Chain Info:
530 O-Ring(BMOR) Chain
9,700lbs Tensile Strength
Includes Rivet Master Link
Component designs optimized with computer analysis provides higher tensile strength.
Specially controlled heat treatment means tougher material.
Reinforced roller offers higher impact resistance and longer durability.
Available in Natural, Black, Gold or Black/Gold

530 X-Ring (BMXR) Chain
9,700lbs Tensile Strength
Offering 1.5 to 2x longer wear resistance than regular O-ring chains.
Each refined component, designed with computer analysis, provides higher tensile strength.
Specially controlled heat treatment means tougher material and more durability.
Quad seal ring and reinforced pin and roller provide superior wear resistance, higher impact resistance and fatigue strength.
Quad seal ring offers less friction, which minimizes power loss, almost half that of standard O-ring chain.

530 High Strength BMZR Chain- Recommended for all baggers
11,200lbs Tensile Strength
Includes Rivet Master Link
Specifically developed for today's high-performance sport machines.
High-quality components coupled with a factory-greased seal ring ensures superior rigidity.
High-tensile steels used throughout the chain components; larger pins mean loads spread out over wider area, resulting in longer life and more strength.
Specially controlled heat treatment means tougher material and more durability.
Available in Chrome, Black, Gold or Black/Gold