Our Conversion kit includes everything needed to covert your 2006-UP 6 speed DYNA belt drive to a heavy duty 530 O-ring chain

This kit is for tires up to 180 width.
24T Front Sprocket and 51T Rear Sprocket is equivalent to the stock belt drive gearing.
49T Rear Sprocket= 4% Overdrive
48T= 6% Overdrive
---------------
55T= 10% Deeper
58T= 16% Deeper
NOTE: This is for OEM Style 6 Speed Transmissions ONLY. (Will NOT fit your Revtech, Ultima, Baker or other Aftermarket 6 into 5 Speed Trans.)

Includes items Below: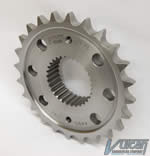 Our 6 Speed Transmission Sprocket
Heat Treated Steel

24 Tooth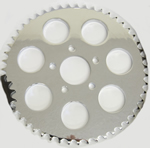 Steel Rear Wheel Sprocket
Full .350 thickness for 530 Chain, beware of other thin .25 thickness sprockets out there.
Steel Sprockets last longer than aluminum sprockets and are ideal for high load situations (Burnouts, Wheelies, High Horsepower Engines)
Black Powdercoat Steel or Chrome plated Steel

48, 49, or 51 Tooth

Available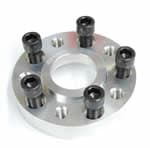 Pulley Spacer
Spacers have dual bolt patterns. One bolt pattern is drilled and counter-bored for 7/16" socket head cap screws, and the other for your stock pulley / sprocket bolts.
No more searching for hard to find 7/16 bolts, they are included with the kit.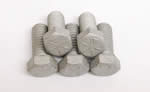 Ultra Coated Grade '8' Hex Head Bolts for Rear Sprocket
5 Grade '8' Hex Head Bolts
Five times as corrosion resistant as standard zinc-plated

screws.

With Stainless Steel Washers
Chain Info:
530 Series O-Ring Chain, 120 Link
9,700lbs Tensile Strength
Includes Rivet Master Link
Component designs optimized with computer analysis provides higher tensile strength.
Specially controlled heat treatment means tougher material.
Reinforced roller offers higher impact resistance and longer durability.
Available in Natural, Black or Gold
530 Series High Strength BMZR Chain
11,200lbs Tensile Strength
Includes Rivet Master Link
Specifically developed for today's high-performance sport machines.
High-quality components coupled with a factory-greased seal ring ensures superior rigidity.
High-tensile steels used throughout the chain components; larger pins mean loads spread out over wider area, resulting in longer life and more strength.
Specially controlled heat treatment means tougher material and more durability.
Available in Chrome, Black or Gold